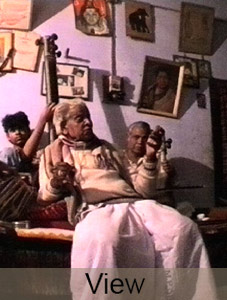 Pandit Mahadev Prasad Mishra (1906- ) was one of the greats of the Banaras gharana in the twentieth century. He started by learning tabla from Bhairon Mishra and vocal music from his father Dwarka Prasad Mishra, going on to become a disciple of the great vocalist Bare Ram Das. He had four daughters and one son, Ganesh Prasad, who was born when Mahadevji was 70. Genesh Prasad Mishra, now an excellent singer, was one of my collaborators on the Growing into Music project, in his role as teacher of his son Shubh. Mahadev Mishra had great passion and wonderful rhythm. He was most at home with dhrupad and dhamar and with the light genres of Banaras: thumri, dadra, chaiti, holi and kajri. He absorbed some of the flavour of Agra gharana, particularly that of Faiyaz Khan's way of rendering bandish ki thumris
The videos below come from a concert for a party of foreign women, with Mahadev Mishra performing at the age of 88 in his home in Ramapura on 18 February, 1994. Baccha Lal Mishra accompanied him on sarangi. His grand nephew Kuber Nath Mishra, another eventual collaborator on Growing into Music, played tabla. Kuber Nath is the son of Pashupati Nath Mishra, Mahadevji's nephew, who, together with his brother Amar Nath, was among Mahadvji's most prominent disciples. The duo, Amar Nath-Pashupati Nath, were big on the Banaras music scene in the '60s and '70s. Pashupati Nathji is still alive and I also worked with him in the process of researching and filming Growing into Music.
The first video is of preparations for the programme—tuning and getting seated.
Mahadevji started with a wonderful bandish ki thumri in Khamaj:
He went on with the dadra "pani bhare"
Then another dadra in Khamaj:
Then Mahadev Mishra sang a hori dhamar in rag Kedar (coming).