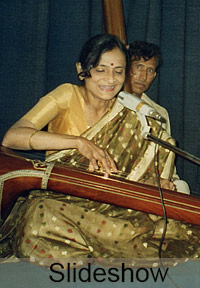 Purnima Chaudhuri (1946-2013) was a great thumri singer, excelling especially at the bandish ki thumris which were so wonderfully performed by her guru Pandit Mahadev Prasad Mishra—whose videos can also be found on this site. She was a superb singer of of all the Banaras specialties dadra, chaiti, kajari, and tappa as well as thumri, a rare example of a specialist in semi-classical music who did not come from a tawayaf background. She was a "top class" artist of All India Radio and sang in many National Programmes and Sangeet Samelans. Purnima Chaudhuri was the recipient of many prestigious awards and performed in musical festival all over India as well as abroad—in the UK, Europe, Canada and the United States.
Here we have nine pieces performed at the Sangit Mahabharati in Bombay, with Dhruba Ghosh's wonderfully understated sarangi accompaniment and Kausar Ali's excellent tabla. NOTE: the videos have been mislabled "tabla: Aneesh Pradhan"—for which I sincerely apologise. This will be removed in the next day or so.
The first piece is perhaps Mahadev Mishra's most famous: the Khamaj bandish ki thumti "hat jaavo ri na bolo":
This was followed by the Khamaj bol banao thumri "mad ke bhare tore nain":
Next a dadra "Piya mori ankhiya tarase ham se na bol":
Purnima Chaudhru continued with another dadra "Bhari sidh gagari na choro mori bahiya":
Then a rare jhaptal bandish ki thumri "Shyam bina sajani":
Then a scintillating tappa:
Then the great Khamaj bandish ki thumri composed by the illustrious Ustad Faiyaz Khan, "na maanungi":
The penultimate piece was the famouse Kafi hori "Kaisi dhum machaaye"
The concert ended with a beautiful Chaiti:
Soon to come: Purnima Chaudhuri accompanied by Abdul Latif Khan at the Bhopal Sarangi Mela of 1989.