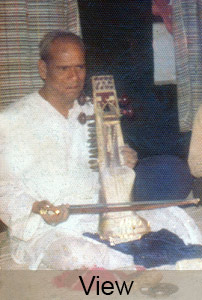 Pandit Gopal Mishra (1921-1977) was one of the greatest sarangi players of the twentieth century. He was the younger brother (by fifteen years) of Hanuman Prasad Mishra from whom he learned as well as from his father Sur Sahai Mishra and from the eminent Banaras vocalist Bara Ram Das. He was the uncle of Rajan and Sajan Mishra and partially responsible for the polishing of their performance style as they lived with him in Delhi for a few years shortly before achieving India-wide fame.
I met Gopalji in 1971 when I was first learning sarangi. I had been learning from Ustad Sabri Khan and was very unhappy with his style of teaching. It was cold and lonely and oppressive spending the winter first in a barsati on the roof of the Crown Hotel in Old Delhi, then in a barsati in the (then) distant suberb of West Patel Nagar. Vinay Chandra Maudgalia, a great Gwalior gharana-vocalist and the principal of the Gandharva Mahavidyalay, took pity on me, and invited me to listen to his practice sessions every morning—a truly illuminating experience. One day I broke down crying about not having found the right guru. He said there was one exquisite sarangi player in Delhi, mentioned the caveat of Gopalji's fondness for intoxicants, and gave me his address. I fell in love with his music and with the man—a true wild man, but also gentle and serious. He taught me "sumirana kara mana Ram" in Puriya Dhanashri. His teaching was organised and to the point. A tabla player was always present. One day he threatened to beat me if I hadn't practised sufficiently when I came back (surely in jest). I practiced like hell that night.
Gopalji lived in quarters on an industrial state, given to him by Vinay Bharat Ram, a wealthy industrialist and good singer in his own right. And Swatantra Bharat Mills had a music room. The real inspiration in this period was that every night Gopalji and a tabla playing worker in the mills used to spend several hours playing in the music room. The image of Gopalji playing his deeply soulful music and staring into my eyes with a look of "where is this beauty coming from?"—is etched into my consciousness. Without this experience, I probably wouldn't have got hooked on sarangi and spent so much of my life on it.
Beyond his incredibly soulful playing and crystal intonation, his uniquenes lay in the coordination of his left and right hands—he tended to bow each note of fast tans individually—at an incredible speed, giving his tans a distinctness similar to those produced on sitar. His was laydhar, a master of rhythm. Indeed as a child he had played tabla before sarangi, and he had grown up in the strident and fiery tabla and dance environment of Kabir Chaura with playmates like Kissen Maharaj and Shanta Prasad. Gopalji was in great demand as an accompanist, There are many stories about his exploits. For instance, once he was accompanying the celebrated vocalist Omkarnath Thakur, and he'd had a bit too much of something or other, and he went to sleep on stage, and Omkarnath changed the words of his song to "jago Gopal pyare" (wake up my dear Gopal ) and Gopalji's sarangi immediately echoed the notes with his usual perfection.
When he visited his ancestral home in Banaras, the emotional impact threw him into a tailspin. Hanumanji had got all the property, the financial stability. Gopalji only got the talent and the fame. So that usually meant a serious binge whenever he came to Banaras. Rickshaw walas had orders to bring him home by force if they saw him stumbling about. I remember him haggling with a woman selling carrots on the pavement. Over the course of half an hour he beat her down from twenty paisa to fifteen paisa a kilo, and then bought one carrot and walked on down the road munching it. Another time he bought half a dozen hard boiled eggs and ate them—just like that—crunch crunch—without peeling. We stopped by a desi daru establishment, and he and the proprietor reminisced—they were the only two left alive of all the buddies who used to drink together. I tell these stories with love for the man—I hope that's clear. There's something tantric about the phenomenon—this man made the most sublime, dare I say—spiritual music that I've ever been witness to.
I once travelled to Calcutta with him. He was due to accompany the great Bhimsen Joshi there—they were musical and alcoholic peers who went back a long way. He was very excited, and tried—excessively—to calm his excitement before the concert. It took six men to get him up and down the stairs and into a taxi, but the concert was wonderful. I slept on the floor in the same room with him that night. He thrashed about in his sleep, left hand racing up and down, right hand bowing back and forth—and it was clear that he was going on accompanying Bhimsen all night long.
There is only one known film of Gopalji—from a British short (played before feature films in the fifties). This was given to me by the late Chote Lal Mishra, an outsatanding Banaras tabla player. And the icing on the cake is that Gopalji is accompanied by the tabla wizard, Anokhe Lal Mishra.
Rag Puriya Dhanashri:
Sadly wild living took its toll and Gopalji left us at the age of 56. I might have passed his age now, but he'll always be a grandfather to me. I wish I had had the sense to stay in Delhi and continue learning from him rather than moving on to the more pleasant pastures of Banaras.
AUDIO OF GOPAL MISHRA
These are the real gems of my collection. Nineteen amazing recordings from the sixties and seventies. Jog and Hori have the wonderful tabla of Ramji Mishra. Malkauns has Shanta Prasad on tabla. July 2016 NEW a superb rendition of rag Madkauns (9a) courtesy of John Campana.
AUDIO OF GOPAL MISHRA and VC JOG (violin) duets
Two masters going wild together. Enjoy!