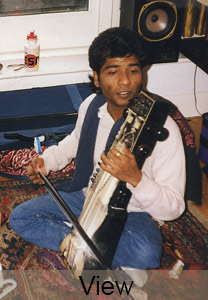 Ikram Khan of Ahmedabad was briefly a fellow student of Ustad Abdul Latif Khan. We met a few times when he came to Bhopal for training. The videos below are from a visit to my place in London in 1999 when he was twenty-seven years old. His father was one Nizamuddin Khan who died when Ikram was young. He learned first from his uncle Gulab Khan (Barde wale, not to be confused with Gulab Khan, the father of Sultan Khan). But as a child he listened to many cassette recordings of Sultan Khan—who used to come to Ahmadabad often and is a distant relative. He admires and emulates Sultan Khan's style and did the ganda bandhan ceremony with him in 1991. In 1989 Ikram Khan came first in an All India Radio junior artists competition. He went on to being a staff artist at AIR. He says that his excellence was the result of years accompanying a wide variety of music at All India Radio Ahmedabad.
Here we see him accompanied by Hanif Khan on tabla: rag Charaukaisi.
The next video is of a short interview preceeded by some more bits and pieces in Charaukaisi (I can't remember why).