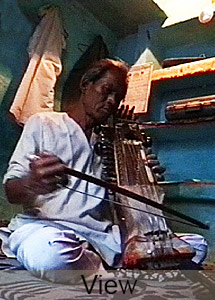 I met Istiaq Khan in Dholpur in March 1995 at a Barasi for the father of Mehmood Dholpuri, a huge gathering of musicians, mostly sarangi players. At that time he sang and played harmonium for me. In December of 1995 I visited him in Gwalior and had a very entertaining afternoon listening to his sarangi, singing and talk—he was well-fueled by whiskey which he had been drinking since morning.
Istiaq khan was the son of the great Sikandar Khan of Gohad, one of the teachers of Abdul Latif Khan. Istiaq Khan was employed as an accompanist at the Madhav Sangit Mahavidyalaya, a music college in Gwalior.
Our first video includes rag Todi and some discussion:
Next we have Bhairavi in bol banao style interspersed with some other rags, a famous bandish ki thumri in Bhairavi (with explanation of the words), a tappa in Bhairavi, and then Istiaq Khan asks for some English music, so I sing Amazing Grace and he accompanies me. He tells me that his father was a vocalist, and he had learned from one Bilas Khan of Jhansi whom he believes to be the inventor of the famous rag Bilakani Todi. Sikandar Khan had been a tabla player, and just decided to learn sarangi when he was forty. He tells me that none of his three sons play sarangi—it's too difficult.Then a bit more Bhairavi.
Next Marva and some more talk. As he plays a tarana in Marva, Istiaq Khan keeps tal with his right knee, hitting it against the floor on the first, fifth and thirteenth beats—impressive. He tells me he's been doing that since he was a child.
Then a tappa-ang hori in Bhairavi, another hori sung and a bandish ki thumri
Then Pilu
Then Miyanki Malhar: