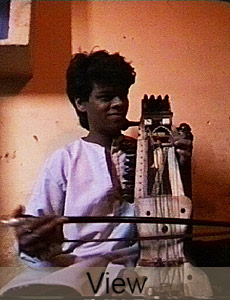 Murad Ali Khan is the grandson of the wonderful Moradabad sarangiya Siddiqi Ahmed Khan and the son of Ghulam Sabir Khan. He learned mainly from his grandfather. He was already an accomplished sarangi player at the age of 20 when I met him in Delhi, and he was just becoming a sought-after accompanist. After several months accompanying Rashid Khan, he began to get widespread work accompanying singers. As was typical of young sarangi players at this time, the stylistic influence of Sultan Khan, a robust thickness of sound, can be heard in his playing. Sultan Khan's powerful playing justifiably captured young players' imaginations, but also so his being perceived as eminently successful, touring around the world with the tabla wizard Sultan Khan.
Murad benefitted greatly from growing up in a diversified musical household. His twin brother is a sitarist and his younger brother Aman Ali is an excellent tabla player. Various children in the family sang, played tabla, or played sarangi . So there was always someone to practise with or someone to learn something new from. The house of Siddiqi Ahmed Khan was truly the most vibrant musical home I have ever visited.
The first series of recordings below are from our first meeting at his home in Shakoor ki Dandi in the Minto Road area of Delhi on 14 May, 1995. His grandfather played tambura, and a cousin played tabla.
He began with an unusual rag which I don't recognise:
The next piece is in the rare rag Chandraprabhar:
Then the sweet early afternoon rag Gaud Sarang:
He finished with the most famous Rajasthani mand:
Siddiqi Ahmed Khan explained some family history to me:
Next we have three videos which show Marad Ali's superb accompaniment style, playing with the famous singer Ustad Rashid Khan in a private concert at the very well-appointed home of a Bangali patron on the 20-something floor of Sunny Towers in Calcutta. Rashid Khan began with rag Nand:
Followed by rag Nayaki Kanada:
The concert concluded with rag Gavati, a lovely rag which was popularised by Nazakat and Salamat Ali—the same bandishes that they sang, Dhan Dhan Bhaag, and Angana Aavo Balamaa. The video ends with Muyrad Ali alone on the stage: