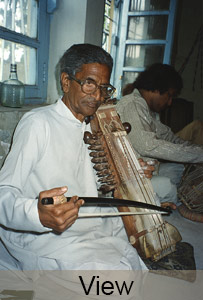 Mohammed Khan of Lucknow learned from his father Baabu Khan and also from one Dildar Khan. I met him and filmed him at his place of employment, the Bhatkhande Sangeet Mahavidyalay, one of the oldest music teaching institutions in the country, founded by VN Bhatkhande.
It is extremely atypical of music colleges in India in that it employs sarangi players to accompany vocal music, tabla and dance classes. In 1997 I believe there were seven sarangi players employed there. Mohammed Khan's recital for me was also listened to by Bhola Nath Mishra and Kesari Prasad Mishra. It should be remarked that in modern India among sarangi players, this is a rare phenomenon: Muslims and—Hindus sitting together.
For this recital Mohammed Khan played my sarangi—which he was well pleased by, though feeling that his hands were only really comfortable on his own instrument.
Please note that the title credits for three videos below all say "at home in Calcutta" wrongly.
This should read "at the Bhatkhande Sangeet Mahavidyalay in Lucknow".
Mohammed Khan started with rag Nat Bhairav:
Then some discussion:
Then a Khamaj thumri: