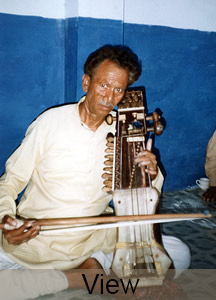 I met Latif Ahmed Khan in June 1997 at the home of his father Ustad Siddiqi Ahmed Khan in the Minto Road area of Delhi. Latif Ahmed was the elder brother of Ghulam Sabir, my old friend and guru bhai. At the time Latif Ahmed was living in Jaipur.
As well as from his father, he learned from one Phul Khan of Lucknow. He also learned singing from the eminent veteran vocalist Ustad Rashid Khan who at the time was around 100 years old. Rashid Khan was a teacher of the Sangeet Research Academy in Calcutta when I was there in 2010.
He was an experienced, impressive and knowledgeable sarangi player, but out of practice. The process of filming required a rehearsal session for each piece.
The first video is of rag Puriya Kalyan. This is followed my some talk and an impressive demonstration of his singing.
Next was the rare rag Hemavati—a trial runthough.
Then a full rendition of Hemavati:
Finally a beautiful dadra: