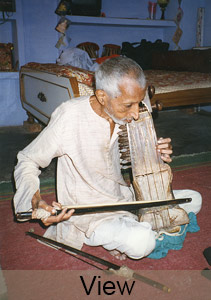 Mahesh Prasad Mishra and his younger brother Ganesh Prasad were a pair of wonderfully colourful old-timers, beloveds of the Banaras music scene. I first visited them in Chaitganj, Banaras in 1994, and visited them several times in the following three years, filming their singing and sarangi playing. Mahesh Prasad had an extraordinary memory for song texts. Sometimes, when asked for words, he would fire long and complicated texts at me with machine-gun rapidity. It was well known that Mahesh-ji was not "16 annas to the rupee". Local people knew to point him in the way of home when they found him wandering aimlessly in the alleys. You'll see in the videos that his mental state was intriguing and endearing, interspersed with great musical and textual lucidity. Maheshji had been a sarangi player earlier in life, but it seemed he had decided the sarangi was the domain of his younger brother. His son Mata Prasad Mishra, both an excellent dancer and a great tabla player, can be heard accompanying the two brothers on the videos below. The first series below is from 24 December, 1995.
Our first two films are from 24 December, 1995. We begin with khayals in Bahar (Ganeshji playing), Adana Bahar (Maheshji singing and Ganeshji playing), and Adana (Maheshji singing with vocal contributions by Ganeshji). Then Ganeshji tells me the words of the Adana song:
Now we have an ektal bandish ki thumri in Khamaj, the wonderful "mag rokhe aaj banavari" (Krishna stopped me on the road today). After this, Maheshji tells me the words of this rather long composition at a blistering speed and with a beautiful feel for the lilt of the poetry—amazing for someone who in other respects was not, as they say, sixteen annas to the rupee.
Next we have some videos from a session on 11 November, 1996, again in Maheshji's home in Chait Ganj, Banaras. I went with Lalita du Perron who was looking for thumri texts for her research on Thumri which later blossomed into her book Thumri Lyrics: Hindi Poetry in a Musical Genre. Maheshji perplexed us by launching into a long exploration of a khayal in rag Bhairav. He is accompanied by a young boy on tabla for some of the time. The boy also seized the opportunity of a quiet moment to launch into a tabla solo, Rag Bhaitav:
Then Maheshji got the message that we wanted to hear thumri, and played and sang a beautiful Bhairavi bol banao thumri, also reciting the words for us.
Next we have rag Des Malhar:
next
next
Many more videos of Maheshji and Ganeshji are coming up—still awaiting uploading.