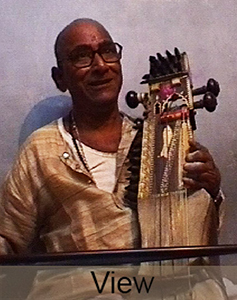 Ram Kishor Mishra was one of several sarangi players who I met in Calcutta's Bowbazar. I actually met him in a
kotha
where he accompanied a
mujhra
of a
tawayaf
(courtesan) named Baby who sang mostly filmy music. I met other sarangi players at a small fairly seedy chai shop on the main road os Bowbazar where every evening accompanists (sarangi, tabla and harmonium players) would wait to be called by womwn performing in nearby
kotas.
This was Ram Kishor Mishra's main livlihood, but he was cheerful and a very devout Shaivite. I met him on another day in a small room in the same kotha.
Like many sarangi players, he gave short demonstrations of rags and pieces, not seeming to have the facility to slowly develop one piece of music. His playing was most touching when engaged in the semi-classical purab-ang romanyic genres which can be heard in the fourth video below.
The first video is of tuning and conversation.
Next we have rag Yaman:
And then more talk:
And then a Khamaj thumri, a chaiti, Bhairavi and Jogkauns: