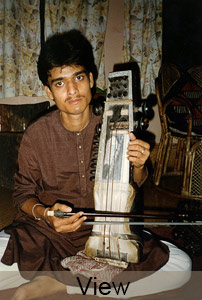 When I met him in July 1997, Pankaj Mishra was a young hopeful, somewhat blinded and misguided by his guru Mahesh Prasad Mishra of Calcutta. Pankaj is the son of Satyanarayan Mishra, great-grandson of Sarju Prasad Mishra, and grand-son of Mahadev Prasad Mishra—all important figures of Banaras musical lineage. He can now be found on Youtube, and is apparently performing widely.
We have a short video offering here—a testament to the fact that he had started sarangi late in his youth and his style had not matured to the point of being able to produce coherent sustained performances. He was a modest and amiable youngster, and gave the impression of knowing where he stood.
The video includes rag Puriya Dhanashri, a Dhun, some eccentric scaletype, rag Jog and some conversation.