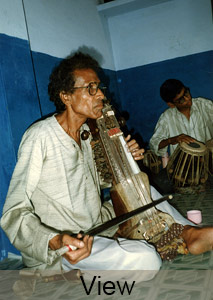 The Kirana gharana sarangiya Rafiq Ahmed Khan is the son of Abdul Karim Khan (a different one!) and grandson of Abdul Rahim Khan who was the son of Abdul Aziz Khan. Finally Rafiq Ahmed's great-great-grandfather was the vocalist Jumi Khan. Rafiq Ahmed Khan first learned vocal music in childhood, only starting sarangi at the age of ten. His teachers include the great Kirans vocalist, his uncle Ustad Abdul Wahid Khan, the famous sarangiya, also his uncle, Shakoor Khan and one Hafiz Khan. I met him and filmed him in June 1997 at the home of Sidiqqi Ahmed Khan in the Minto Road area of New Delhi.
Rafiq Ahmed Khan grew up in Muzafarnagar, 30 kilometers from Kirana—where is wife's family (a tabla khandan) came from. He went on to become a staff artist on All India Radio Jaipur, but now retired, he was building a house in a suberb of Delhi. He had accompanied many great artists in his time—including Niaz Ahmed and Faiyaz Ahmed Khan, Amanat Ali and Fateh Ali Khan, Nazakat and Salamat Ali and Lakshmi Shankar.
I met Rafiq Ahmed Khan when he was 62, on June 14, 1997 at Siddiqi Ahmed Khan's house in Mir Dard, Delhi. The first video is of plenty of tuning and talking. Ghulam Sabir implores him to tune well and play well—a leisurely rag exposition. Aman Ali Khan, Ghulam Sabir's son (Murad Ali's brother) prepares th tabla. His ancestory and teaching lineage are discussed.
Then Rafiq Ahmed Khan offered a substantial rendition of rag Darbari:
This was followed by rag Yaman, one of the most common and widely-performed rags—but very challenging on sarangi. And then more talking.