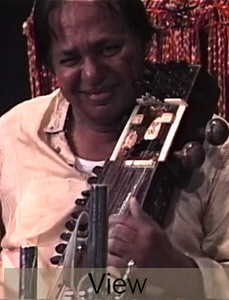 Pandit Ram Narayan, hailing from Udaipur in Rajasthan, was possibly the most famous sarangi player of the twentieth century. He made several solo LPs and gave solo recitals, and promoted the impression that he was the originator of solo sarangi. In fact although publicly sarangi players have been mainly accompanists, they have always played and taught solo sarangi at home, albeit solo styles more closely linked with vocal music. But Ram Narayan's genius and his mastery of the instrument shine through in all his solo performances.
Panditji developed and perfected a style based on the format of instrumental (sitar and sarod) music. He normally performs an extended alap which ends with a section of extremely fast, mainly sapat, tans—in place of the jhalla of instrumental music. He goes on to base his metered improvisations around pieces similar to Masitkhani gats, usually in tintal, 16 beats. Panditji's most notable student is his daughter Aruna who lives in Toronto. His son Brij is a well-known sarod player.
Ram Narayan says that his fingering technique is largely responsible for his superb intonation. Unusually he consistently plays only Re with his first finger, followed by Ga Ma Pa with his second finger. I believe it is his genius which is responsible for his intonation and his pristine tone and lightning tan speed. Surprisingly, his father was not a classical musician. He was a dilruba player who played haweli sangit in Udaipur temples. According to Ram Narayan his technique comes from his father, but according to Inder Lal Dandra, also from Udaipur, Ram Narayan learned from Inder Lal's father. And I was told by the widow of the Udaipur sarangi player Mehboob Khan that Ram Narayan learned sarangi entirely from her late husband (see Moinuddin Khan's page on this site). Ram Narayan himslf however does not acknowldge Mehboob Khan. Quintessential in Ram Narayan's musical development were lessons from the influential Kirana gharana singer Abdul Wahid Khan, during his period of employment at All India Radio Lahore—before partition.
Like most sarangi players, Ram Narayan began his career accompanying singers. His accompaniment was exquisite as can be heard on recorded examples (soon to grace this site). The great singer Krishnarao Shankar Pandit first brought Ram Narayan to Bombay in the 1950s. He was well-known as a superb accompanist, and his pristine sarangi can be heard on many Indian films from the fifties and early sixties. Ram Narayan terminated his accompaniment career in a concert accompanying the great duo Nazakat and Salamat Ali. Apparently Salamat Ali insulted him, and he walked off the stage, vowing to give up accompanying. From that day on, he fashioned a solo career for himself. His early EP recordings are a beautiful testament to his transition between typical sarangi vocal style and his later instrumental style of playing. Perhaps his greatest recordings are from his extraordinary 1969 All India Radio National Programme of Music.
I am grateful to Daniel Neuman for the two videos below: Ram Narayan performing for an audience of over a hundred sarangi players at the Sarangi Mela held in Bhopal in 1989. First he played a substantial rendition of rag Gurjari Todi.
This was followed by Mishra Kirwani:
And now a rare treat. Panditji conducting the world's largest ever sarangi orchestra, rag Patdeep. That's me, second from left in front:
Here are two wonderful videos from a 1960s French documentary of a young Ram Narayan accompanied by his illustrious elder brother Chatur Lal: ragas Kirwani and Shankara:
RAM NARAYAN AUDIO
Here is a collection of rare and special recordings of Pandit Ram Narayan's most exquisite playing. It starts with Panditji's two amazing 45-rpm EP records recorded in 1961 and 1962. This is followed by lengthy recordings of Jaunpuri and Jog from the 1960s. Next we have Maru Bihag, Chandrakauns and Pilu from Panditji's celebrated 1969 AIR National Programme of Music. Many believe this performance to represent the highpoint of Ram Narayan's stylistic development.
Next we have three pieces from the LP, "Voice of a Hundred Colours" which was the first sarangi music I ever heard and which inspired me to go to India and learn sarangi at the age of 18. My life went sideways! Thank you Panditji!
Finally there is a 1950 recording of Yaman accompanied by the Banaras tabla wizard Pandit Shanta Prasad (Guday Maharaj).
NEW JUNE 2015! The oldest examples of Panditji's wonderful sarangi playing: a 10-inch LP record recorded in 1950 and released in 1957, and three 78-rpm records released in 1955. Courtesy of the the Society of Indian Record Collectors.