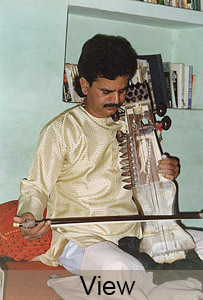 Santosh Kumar Mishra (b. 1956) is the eldest son of Pandit Bhagwan Das Mishra (also featuring on this site) who was a veteran of the Banaras gharana. He learned largely from his Uncle Narayan Das Mishra as his father was employed at All India Radio, Lucknow. He is employed as an accompanist at the Music College of Banaras Hindu University. In recent years he has been the most popular and successful sarangi accompanist in Banaras. I first met Santosh when he was 13 when I first arrived in India.
I learnt for a few days, very tentatively, with his Uncle Narayan Das Mishra, and was left to practice with Santosh and his younger brother Vinod—for longer periods than my fresh-from-America legs could take, and whenever I tried to stop, these children would yell at me "bajaao!" (play!).
The first series of videos here is from a concert which I organised at Amar Bhavan, Assi, Banaras on 6 February, 1994. Santoshji began with a full khayal treatment of the morning rag Nat Bhairav.
This was followed by rag Todi:
Next we heard the the famous hori in rag Kafi "kaisi duma machaae"
-
The concert concluded with the famous Bhairavi thumri by Wajid Ali Shah," babula nora naihara chuto jaya"