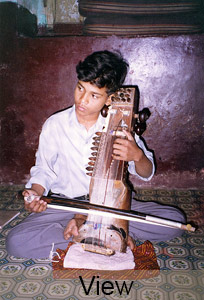 Sarwar Hussain Khan is the grandson of Abdul Latif Khan. When I arrived in Bhopal in 1994 wanting to learn from Abdul Latif, he was 13. He met me at the door and said his grandfather wasn't home. Most of the family had gone to Gwalior for a wedding, "but I also play sarangi. Come in. Sit down." He proceeded to amaze me with his incredible technique, and I sat and played with him for a week before Abdul Latif Khan came home. Since that time Sarwar has been my guru bhai and a good friend. Abdul Latif Khan often taught us at the same time. Sarwar Hussain is now employed as an accompanist at the prestigious Sangeet Research Academy in Kolkata.
Between 2009 and 2012 I filmed Sarwar Hussain teaching his young sons Amaan and Armaan for the Growing into Music project. The finished film Sangit ka Khel (Music as play) can be viewed at www. growingintomusic.co.uk as well as on this site.
Here is Sarwar Hussain playing rag Puriya Kalyan on 5 June, 1997. I follow on sarangi.
The next video is from 17 March, 1997. It begins with rag Surti Vardani, a favourite of Abdul Latif Khan's. Then there is an interlude of Madal Khan of Dholpur singing a thumri. Then Sarwar Hussain, later on the same day, playing Shri Rag. (You can tell when I'm getting exhausted by this process—when I get lazy about separating individual pieces. I really need an assistant!)
The next three videos are NEW MARCH 2016!. Now we have Sarwar's practice in Bhairavi on August 11, 1997:
Then on the next day his practice in Desh. Abdul Latif Khan sings a beautiful bandish in the rag. Many illuminating shots of family life.
Also on August 12, 1997, he played rag Megh: