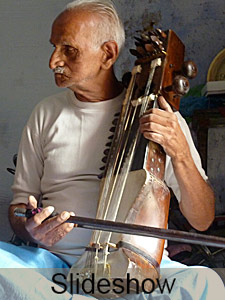 Vidya Sahai Mishra is the brother of the late tabla genius Pandit Sharda Sahai Mishra and son of the tabla player Pandit Bhagvati Sahai Mishra. He first learned sarangi from Sita Ram Mishra, but was disadvantaged by not being Sita Ramji's son, and did not receive proper talim. He then learned for some time from Panalal Mishra, the younger brother of the illustrious Pandit Sur Sahai Mishra.
I have known Vidya Sahai Mishra since the early '70s. Although old enough to be my father, he is also a disciple of Pandit Hanuman Prasad Mishra, hence my guru bhai, and we used to practise together in the early days. I filmed him in his home in Kabir Chaura, Banaras, accompanied by his son Shiv playing tabla and also singing in April 1994. In 2009 and 2010 I filmed him again teaching his grandsons Krishna and Vinayak as part of my Growing into Music research. My film, Dukh ki Talim, about his quirky style of musical pedagogy can be viewed from the Growing into Music section of the Video Archive and also on www.growingintomusic.co.uk. His son Prabhu, a sweet man who was deeply devoted to his guru Hanuman Prasad Mishra, met a tragic death on railroad tracks, running for a train in 2008. This family has an altogether tragic aura—afflicted by antisocial conceits and less than optimal teaching. Vidya Sahai has an endearingly rustic but somewhat cantankerous persona.
This session was filmed on 19 April, 1994. First we have rag Vachaspati, accompanied by Shiv Sahai Mishra on tabla:
Next was a Pilu thumri:
Next was a dadra in Pahadi:
Next was a Bhojpuri kajri in which Shiv Sahai Mishra surprised me by singing in an amazingly high pitch while playing tabla beautifully:
Next is a bandish ki thumri in Bhairavi. Again Shiv Sahai Mishra sang beautifully:
-
Then Vidya Sahai sang a beautiful dadra in Pahadi and Shiv Sahai Mishra sang a wonderful bhajan in Bhairavi. My visit ended with a tour of the house, including the quarters of Sharda Sahai Mishra, Vidya Sahai's illustrious brother. We see statues and paintings of the founders and greats of the Banaras tabla gharana: Ram Sahai Mishra, Bhairo Cahai Mishra, Badeo Sahai Mishra, Nanu Sahai Mishra, Bhavati Sahai Mishra, Lakshmi Sahai Mishra and Kathe Maharaj. Also we see the view of Kabir Chaura from the roof of their house.