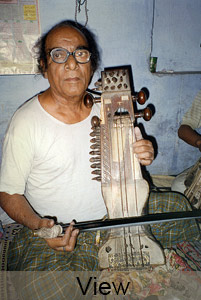 Ustad Wazir Hussain Khan was an extremely interesting sarangi player and a warm-hearted man. He lived in a small and very dark place in the Minto Road area of Delhi in the same alley as the house of Siddiqi Ahmed Khan and Ghulam Sabir. He came from Agra and identified himself as a Sonipat style sarangi player, and indeed he was born in Sonipat. This historically very important sarangi gharana has very few remaining members. Wazir Khan and others have cited extensive use of the fourth left-hand finger, unused by most other sarangi players, as being one of this style's specialities. He used the fourth finger for all notes, especially in tans, in the upper octave.
Wazir Hussain was the son of Niyaz Ahmed Khan, his main teacher (not to be confused with the Kirana gharana singer of the same name). Wazir Hussain told me that he also learned from Ghulam Abbas Khan and Ustad Amir Khan. He was the nephew of Ustad Badal Khan and the nati of Ustad Gani Khan. He was employed as a staff artist at All India Radio, New Delhi.
I filmed Wazir Khan in May 1995 and June 1997 playing with a room full of sons and nephews. It was very hot in the room and thick with Wazir Khan's bidi smoke.
The following four videos are from May 1995. Emerging from a practice session in another rag, three sons/shagirds are tuning their sarangis while Wazir Khan begins the alap in rag Marva, but he silences them at a certain point, and plays a full vilambit khayal followed by a drut bandish. This was my first visit. And Wazir Khan surprised me with his somewhat abstract but interestingly fingered tans.
-
The second video is of rag Megh:
-
The next video is of rag Maru Bihag:
">-
Finally we have a passionate thumri in rag Pilu, interview footage, and a rendition by his eldest son.
-