I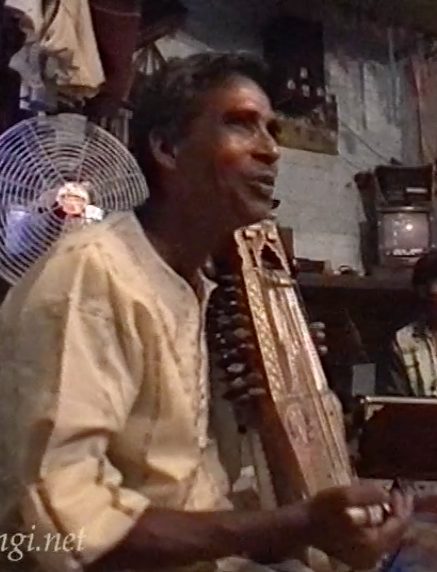 met Shiv Sevak Mishra in May 1997 at his home in a distant Western suburb of Delhi. He came originally from Hariyapur village near Azamgahr in Bihar. In Azamgarh sarangi players play more-or-less Banaras style, so it was pleasant to hear Shiv Sevak's renditions of purab ang semi-classical pieces.
In childhood Shiv Sevak learned vocal music from his father Gopi Mishra and his older brother Raj Kishor Mishra before starting sarangi with his uncle Julang Mishra. His grandfather Lal Bahadur Baba "played such a big sarangi that we wouldn't be able to lift it." His great-grandfather Sardev Baba was famous for his superb chaiti renditions.
Shiv Sevak was employed as an accompanist at the Kathak Kendra in New Delhi. We had very interesting talks. He was affable and animated, and very apologetic for being out-of-practice. The six videos below include our conversation and several pieces accompanied by his sons on harmonium and dholak. Shiv Sevak, by his own admission, was not too polished, but he was a lovely old-school sarangi player with plenty os ras.
We started with tuning, dam maro dam, and talking—including his family history and teachers:
Then rag Brindabani Sarang. I was a bit startled by the dholak accompaniment at first.
Then a bhajan:
A lovely chaiti, Shiv Sevak's great-grandfather's specialty:
Rag Malkauns:
Our session ended with more talking with some sarangi demonstrations: