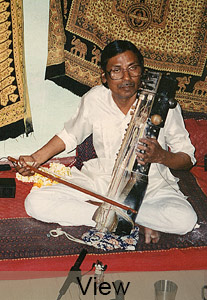 Ustad Zakan Khan of Banaras is a highly knowledgeable sarangi player and a wonderful man. I first met him in the winter of 1994 at a fairly boring concert at the Blind School in Durga Kund, Banaras. I complimented him on his playing, and he was surprised by my speaking Urdu and showing some kind of knowledge of sarangi. He took me outside in a field and sang beautiful bandishes into my ear for around an hour while the next item of the concert was going on. I too was surprised—that such a knowledgeable sarangi player could exist in Banaras and over so many years none of my Hindu friends had ever mentioned him. He was in fact the staff artist at All India Radio, Varanasi—after Baccha Lal Mishra retired. I soon went to his house in Shivala—realizing I had been there in the '70s to visit Mustaq Ali Khan, the eminent old-style sitarist. Zakan Khan's father was Mustaq Ali's brother.
Zakan Khan was one of four brothers—all musicians. His eldest brother was the well-respected sarangi player of Calcutta, Laddan Khan—who in 1995 returned to Banaras to stay in the house, suffering from a neurological condition that caused his playing to be very shaky—a shadow of its former quality. Zakan Khan's younger brother Faiyaz (see his page) lived downstairs, and was also a good sarangi player. The middle brother was a singer living in Gorakhpur. One of the videos here is of a rare meeting of three of the four brothers singing and playing together, with a sense of recapturing their youth.
Zakan Khan was sweet and gentle—he had a lovely "adopted" 3-year-old daughter. She was in fact his brother's daughter, but she had adopted him. She can be seen hugging him in mid-rag in some of the videos. Zakan Khan was also quirky and rather (justifiably) bitter about the Banaras music scene, and about the sorry state of Indian music in the 1990s. He often reminisced about his childhood in Calcutta, spent listening to and sometimes accompanying the great vocalists of the 1940s and 1950s.
Lessons with Zakan Khan lasted hours, and my legs often got sore. He had very little interest in anything besides music—sometimes I would crave for him to remember that chai might be a good idea.
Some years back, Zakan Khan moved house—way away from the river in the depths of Lalapura, Varanasi. He has one excellent and extremely devoted student from Scotland, Joyce Turret. Joyce has been learning from him in a very traditional way, taking his word for everything, never writing anything down, for several years now, since Baccha Lal Mishra', her first teacher's passing sway.
Our videos begin with a Concert at Amar Bhavan which I organised on the 20th of March, 1994. The viewer is reminded that these are unedited archival films, so tuning and conversation are included on occasion. First Zakan Khan played khayal in the early afternoon rag Shuddh Sarang:
-
Followed by a hori in rag Kafi—beautiful thumri-style playing, the speciality of Banaras.
-
Next was a bol banao thumri in Pilu:
-
The concert concluded with a chaiti, a semi-classical song-form specific to Spring time, the month of chait in particular.
-
Next we have a concert at a private home in Nagwa, Banaras on the 26th of December, 1994. It was very cold and Zakan Khan was not happy about the prospect of playing. His sarangi had been acting up, so he played my instrument on the day. He was accompanied on tabla by Kailash Mishra. He began with khayal in the evening rag Kedar:
-
Next was a thumri in Khamaj.
-
Then another khayal in rag Adana, the uttarang answer to Darbari, a "small" rag, widely seen as suitable for the second or third item of a performance.
-
Finally we heard a beautiful tappa in Kafi. Tappa is a technically demanding semi-classical song-form. Originally from Panjab, Tappa flourished in Banaras in the nineteenth century.
-
The next three pieces were recorded on Christmas Day 1995. The first video shows Zakan Khan enjoying music with two of his brothers, his elder brother who had lived in Gorakpur for many years, on a visit to Banaras, and his younger brother Faiyaz (also an excellent sarangi player). They began by singing an ektal bandish in rag Kedar. Then Faiyaz sang a tarana.
Then Zakan Khan played Jhinjhoti with me. He also demonstrated rag Khambavati.
-
Finally he played a Khamaj thumri on my sarangi.
-
The next series is a visit to Zakan Khan's house for talim on 26 March, 1994 The first video shows me following his Bhimpalasi:
-
followed by rag Shahana, by my request:
and then rag Basant Bahar, welcoming Springtime, followed by a tappa in Kafi which Zakan Khan was teaching me in thath tuning (the sarangi's middle string as Sa) (as played in the concert video above).
The next piece is rag Bhairavi in a ghazal-like style, recorded on 9 September, 1994, also at Zakan Khan's house.
Now we have two videos from a visit on 5 November, 1996. First he played rag Pilu in thumri style followed by two interesting nagmas (melodies for delineating the tal cycle in dance and tabla solos):
Then Zakan Khan played a thumri in Khamaj: