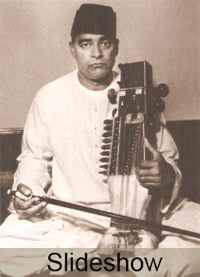 Ustad Shakoor Khan (1905-1975) was one of the outstanding sarangi players of the twentieth century. He was firmly identified with the Kirana Gharana, being the nephew and student of Ustad Abdul Waheed Khan. His father was a well-known sarangiya, Abdul Zafar Khan who can be heard on some of the 78 rpm recordings of the great Zohrabai Agrewali. Shakoor Khan's early training in both sarangi and singing came, in addition to from his father, came largely from his maternal grandfather Ustad Mehboob Bakhsh. Later in life he learnt from Abdul Wahid Khan.
Shakoor Khan accompanied many of the great singers of the twentieth century includingVilayat Hussain Khan, Kesarbai Kerkat, DV Paluskar, Amir Khan, Bade Ghulam Ali Khan, Omkarnath Thakur, Mushtaq Hussain Khan and Hirabai Barodekar. He was the first sarangiya to receive the Government of India's Padmashri award. His two sons Mashkoor Ali and Mubarak Ali are well-known vocalists.
In the playlist below are some fine examples of his playing, all recorded in the 1970s.