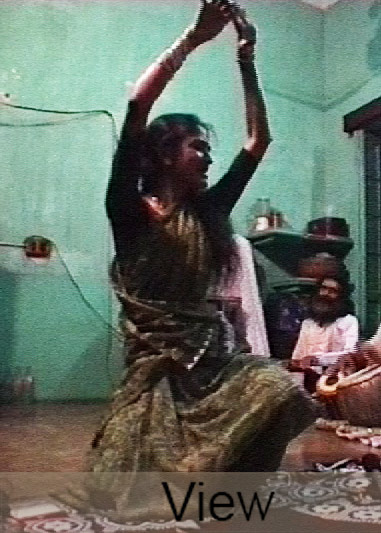 I met Madhuri Devi in a kotha in which she worked in the Bow Bazar area of Calcutta in 1997. She treated us to a wonderful performance of semi-classical vocal music with seated abinaya (facial and hand expression) and also pure standing dance. She was an accomplished and very expressive singer and dancer. Madhuri Devi was accompanied on the sarangi by Amjad Khan who you can find in the A-E video archive of this site.
I heard some years later that due to ill health Madhuri Devi had returned to her native Bihar.
The first piece was a dadra:
Then another dadra:
Then a Bhairavi thumri and a Pilu dadra:
Then she put on her gungru (dancing bells) and treated us to a dance performance. After this breathtaking performance, I had a go on Amjad Khan's sarangi, playing a Mirzapuri kajri which Madhri Devi knew, so she sang along.