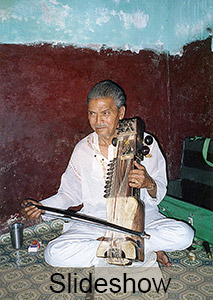 Ustad Abdul Latif Khan of Bhopal (1934-2002) was my dearest teacher. I learned from him on-and-off during visits to India between 1995 and 2002. He came from Gohad village near Gwalior in Madhya Pradesh. He had been a staff artist at All India Radio, Bhopal for twenty-five years or so. He was well-known as an excellent accompanist, and he had achieved some fame as a solo player following his "discovery" at the Bhopal Sarangi Mela of 1989. But he was a shy man, and by far his best playing was at home. He truly lived music. He used to sit every morning and every evening, each for three or four hours, in his customary corner, playing his sarangi, and his various students would play along. We covered around sixty rags in our time together. Mostly he taught by example—you had to catch it, whatever it was, although sometimes he would give a subtle nod towards his hand, indicating the correct manner of executing some phrase, or he would repeat phrases when one of us was baffled by what they had heard. He had a skillful way of subtly pulling you up to his level.
Most of the videos here were filmed in Abdul Latif Khan's home in Shahjahanabad, the old city of Bhopal, not far from the site of the Union Carbide gas disaster of 1984. Many of my videos of Abdul Latif Khan, because I was there more as a student than as a researcher, include the cacophony of one or more (as many as six) sarangi students including myself playing along with him. Ironically this makes them particularly interesting from a research point of view, and perhaps more iffy musical experiences for the casual listener. The hazy interface between home life and musical life is deliciously apparent. Children run in and out—someone pushes a motorbike through the room. An uncanny feeling of timelessness surrounded Abdul Latif Khan and his activities—intensified by the darkness of the room and the haze of cigarette smoke—not ideal from a filming point-of-view, but well worth it musically. As well as more than fifty hours of video from Abdul Latif's home, I have a couple of hundred hours of digital audio recordings—a testament to the daily musical life of one of the great sarangi players of the twentieth century. Will all this material ever see the light of day?
Here is a video filmed on 28 March, 1995 of Abdul Latif Khan playing the rainy-season rag Miyanki Malhar, accompanied by Nafiz Ahmed Khan on tabla and Nicolas Magriel on sarangi:
Next is a performance at a barasi, a memorial for the father of the well-known harmonium player Mehmood Dholpuri, one year after his passing away. Sarangi players and other musicians from all over North India were gathered in the small town of Dholpur in Rajasthan, just across the border from Madya Pradesh, for three days of festivities. In the first item Abdul Latif Khan performs rag Todi accompanied by his son Nafiz Ahmed on tabla and four sarangi students including myself and his precocious grandson Sarwar Hussain.
Followed by thumri in rag Bhairavi:
Then the illustrious Delhi gharana tabla player Faiyaz Khan arrived, generating much excitement as he took over the tablas, and Abdul Latif Khan continued Bhairavi with a beautiful dadra, one of his favourite pieces:
The next clip is of a ritual giving away of pots and pans, part of the barasi celebrations in Dholpur, followed by the elder musicians sitting around in conference:
Next, a typical practice session at home, rag Mishra Hindoli, accompanied by Akram Khan on tabla, with sarangi students: grandson Sarwar Hussain, son Farukh, one other guy and myself (8 February, 1995):
and Yaman from the same session:
and rag Hindol, barely more than four notes. Uniquely Abdul Latif Khan tunes the middle string of the sarangi to tivra Ma (the tritone above Sa).
Then some discussion of bandish performance:
The next five pieces comprise a wonderful and very welcome addition to the site, courtesy of Daniel Neuman in Los Angeles: Abdul Latif Khan performing at the Sarangi Mela of 1989 in Bhopal, the largest gathering of sarangi players in history. This was the first time I ever heard him. Before this event, Abdul Latif Khan had been relatively unknown, and none of us (Western sarangi enthusiasts) had heard of him—it was mindblowing—no more no less.
The first piece was rag Malkauns, a substantial exposition. Notice that the middle string is tuned to Ma. Abdul Latif Khan wowed the audience with his finesse in vilambit khayal, with his flash three-octave madhya-lay bandish and his Bundu-Khan-style two-finger tan techniques, executed at lightening speed. The tambura is played by Abdul Sayeed Khan, Ustad's close friend—whose singing you can hear further down this page.
This was followed by a personal favourite of Abdul Latif Khan's which I have never heard from any other musician, rag Surti Vardani. His madhya lay bandish is somewhat reminiscent of the Pink Panther theme.
This was followed by Ustad's favourite tappa—in rag Kafi. Abdul Latif Khan prided himself on his tappa technique, in which the zamzama is executed with finger trills rather than with gamak. He demonstrated the difference at the beginning of this brief exposition of only the bare bones—sthayi and antara—of this tappa.
Then we were treated to a bol-banao thumri in Khamaj.
Finally, as is traditional, Abdul Latif Khan played Bhairavi.
I am very grateful to Daniel Neuman for making the Sarangi Mela videos available here.
We return to videos recorded by me in the 1990s.
Although his family had been Muslim since the 15th century, Abdul Latif Khan always celebrated Saraswati Puja (the festival day associated with Saraswati, the Hindu goddess of learning and of music). Here we see this celebration in 1995:
On the same occasion, rag Basant, the rag of Springtime.
Next is rag Todi in a rare nine-and-a-half matra tal, followed by a famous composition (immortalised by Abdul Karim Khan—but in Gurjari Todi) begun gun gaiye allah ke samne. Abdul Latif Khan tells me the words of the Basant bandish sung and played on the previous video (also famously sung by Abdul Karim Khan):
Here is my Ganda Bandan ceremony—becoming Abdul Latif Khan's shagird (disciple). He ties a thread around my wrist, and we each feed the other sweets with our hands:
This was followed by some celebratory music. First rag Yaman:
Then a tabla solo by Nafiz Ahmed Khan with multiple sarangi accompaniment:
Here is a demonstration of tappa in rag Kafi, February 2, 1995:
On the same occasion, teaching Nicolas Magriel rag Gandhari:
A demonstration of scale practice combining the totally disparate scales of Yaman and Bhairavi:
And a demonstration of tans in rag Miyanki Malhar and rag Surti Vardani, and some interview:
Now a lesson in rag Todi, April 1995:
The next two videos are of vocal music. The singer (an ex-sarangiya) Abdul Sayeed Khan, also from Gohad, was an old buddy of Abdul Latif Khan's. On both pieces below he is beautifully accompanied by Abdul Latif Khan and by Nafiz Ahmed Khan on tabla. The first piece is rag Marva. Regrettably there are some sound drop-outs on this first piece—making it difficult to listen to. My first hi-8 camera had never been the same after it was filled with coloured powder when filming the Holi kavi samelan in Banaras.
Then Abdul Sayeed Khan sang rag Miyanki Malhar (the sound appears to be better here):
Our latest addition is a concert at the house of the Bhopal District Superintendent of Police. He was accompanied by Sarwar Hussain and Nicolas Magriel on sarangis and his son Nafiz Ahmed Khan on tabla. The rags are Yaman and Desh:
Nafiz Ahmed Khan also played a tabla solo accompanied by Ustad's son Farukh Khan:
NEW June 2015: five more videos of Abdul Latif Khan playing and teaching at home in Shahjahanabad, Bhopal in 1997. The following sarangis usually include Sarwar Hussain and myself. First rag Ahir Bhairav recorded on the morning of March 12, 1997:
Next we have another recording of rag Surti Vardani, an eccentric favorite of Ustad's, recorded March 12, 1997:
Then Jaunpuri recorded on March 18, 1997:
Then Charaukaisi later on the same morning:
The rare rag Salag Varali, a South Indian import, recorded on March 15, 1997:
NEW 9 videos June 12, 2015: Now we have three videos from a sitting with Ustad's son Nafiz Ahmed Khan on tabla from August 16, 1997. Sadly Nafiz was always busy and didn't often have the time to accompany his father. The first piece is rag Darbari, alap followed by jhumra and tintal:
Next was Megh:
Then two songs from the Ramayan tradition of Madhya Pradesh which Ustad was exposed to in his childhood in Gohad. He begins by singing:
Now we have two pieces from a sitting on the morning of August 14, 1997. The first was a favourite, rag Vasant Mukhari:
Followed by a close neighbour Gunkali, inspired by Ustad remembering a song from his childhood which he sings for me:
Now an evening sitting on August 6, 1997. We started with rag Kaushi Kanada:
Followed by Miyanki Malhar
Then an evening sitting on March 5, 1997 which began with rag Jog:
Followed by a Hori in Kafi:
NEW JANUARY 2016! The next series of videos is from one of my first days with Abdul Latif Khan, the 28th of March, 1995. Unfortunately the video camera was damaged by coloured powder thrown in the Banaras Kavi Samelan a few days earlier amidt the Holi festivities. So ther are some dropouts. And because the tape was badly eaten by the camera, when I digitised these tapes, I was unable to reurrect this one. So I have just now captured footage from a VHS backup which, unfortunately, has the timecode burned in. But the music is special and well worth living with these annoyances. Ustad's morning sitting, with Sarwar Hussain and myself, covered two morning rags and also an electric bandish in Bageshri. In the evening he played Darbari, followed by the Miyanki Malhar which is the first recording on this page, accompanied by his son Nafiz Ahmed Khan.
He started with rag Bairagi:
Then a short demonstration of a madya lay composition in Bageshri—following a formula which Ustad most odten deployed in Malkauns:
Next rag Lalit:
Then Ustad showed me a scrapbook full of photos—his concerts and award presentations. In the midst of this there is some footage of ALK's son Anwar holding grandson Javad—who at six months old, begins his training in gamak singing.
Then in the evening he played Darbari, first with me following him, and then accompanied by his son Nafiz Ahmed on tabla:
Please go to the top of the page to listen to a beautiful Miyanki Malhar which followed Darbari.
NEW MARCH 2016! A long lesson in rag Kaushi Kanada followed by a short rendition of a dadra in Bhairavi (which can also by heard at the Dholpur barasi above).