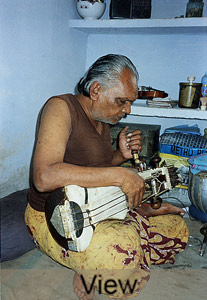 Ustad Abdul Samad Khan (1936-c2000) of Bhopal was the son of the renowned sarangi master Ustad Sher Khan of Gwalior. Sher Khan was famoue for covering his hand with a handkerchief whenever he performed so that no one could see and steal his fingerings. Abdul Samad Khan was also the student of Ustad Murad Khan. He identified himself with the Gwalior gharana. He had accompanied many outstanding vocalists including Krishnarao Shankar Pandit and Vinayakrao Patwardhan.
Abdul Samad Khan was a staff artist at All India Radio, Bhopal (retired when we met) and a contemporary of my teacher Abdul Latif Khan. He was a sweet man and an excellent player, but ALK's apparent disdain for him inhibited me from visiting as often as I would have liked. Nevertheless I did make a few fruitful visits, interviewing him and videoing his playing and that of his sons and also some sarangi repair operations, most memorably the perilous process of twisting two brass wires together to make the laraj, a bass sympathetic string which is attached to the sarangi's fourth main tuning peg.
On one of my bows I still have some excellent white horsehair which Abdul Samad Khan gave me. It came from a "sarkari ghora" (a government horse). An acquaintance of his had a connection in the local armoury stables in Bhopal. When I got the hair home, I proceeded to soak the hair in water in preparation for braiding it and putting it on a bow. Suddenly my flat was filled—I mean filled—with the stench of horse urine—I was overwhelmed. So sarangi players should know: when you put commercially available horsehair on your bow, be grateful to whoever it was before you who did the shampooing!
The following eight videos are from my visit on March 29th, 1995. More to come!
The first video shows Abdul Samad Khan tuning his sarangi.
Next some beautiful thumri-style unaccompanied sarangi in rag Pilu.
Then some unaccompanied Shuddh Sarang followed by a demonstration of an extraordinary gamak technique and the question "can Panditji (Ram Narayan) do this?" and some mention of great sarangi players of the old days.
-
Now a demonstration of extraordinary chromatic tans in Bhairavi which Samad Khan attributes to the immortal Bundu Khan, then a very fast palta in Malkauns, in the 2-finger style of Bundu Khan, identical to those taught to me by Abdul Latif Khan.
-
Next we hear the story of the sarangi players Mir Khan and Pir Khan who listened surrepticiously to Hadu And Hassu Khan, the founders of the Gwalior Gharana, for twelve years, and finally impressed them with their mastery of Hadu and Hassu's style. According to Samad Khan all Gwalior sarangi players have inherited the musical heritage of Mir Khan and Pir Khan. His own father was their grandson. Some of the line of descent is explained. We then hear about Sher Khan, his father, spending 14 years in the jungle practising and finally emerging with a very long beard, unrecognizable to his relatives, a peerless sarangi player. He blew everyone's minds. His sur (intonation) was incomparable. Abdul Samad Khan states humbly that his sur could never compare—intonation comes from God.
Samad Khan started on a small sarangi at the age of six, going on to a full-sized instrument at ten. Sher Khan passed away when Samad Khan was 11 after which he learned from Murad Khan, his grandmother's brother. He has that Sher Khan gave him the frame—he had to supply the glass himself. We then hear a bit more about his life. Like many sarangi players he had immense respect for Amir Khan's gayaki. He talks about his ceaseless attention to intonation and bemoans the absence of this in younger players. I asked if he had the words of songs in his mind when playing, and he answered, unlike most sarangi players, that he just pays attention to sur and lay, notes and rhythm. Finally "solo playing is easy—accompaniment is difficult". You have to be able to follow diverse vocal styles.
Then Samad Khan played a weird Western-sounding piece, his own creation.
The next piece is tappa in Kafi, using impressively fingered ornamentation, followed by more discussion.
Finally we hear Samad Khan playing tabla, accompanying his youngest son whom he had been teaching violin: rag Todi, the famous khayal "langara kankariya jina maro".