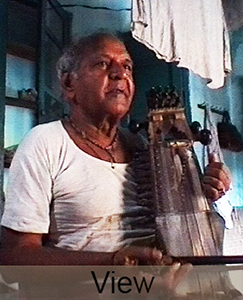 Amjad Khan was one of several sarangi players who I met in Calcutta's Bowbazar. I actually met him in a kotha where he accompanied a mujhra of a wonderful tawayaf (courtesan) named Madhuri Devi who gave a very entertaining performance of semi-classical song, complete with seated abinaya and full-on kathak dance.
I met other sarangi players at a small fairly seedy chai shop on the main road os Bowbazar where every evening accompanists (sarangi, tabla and harmonium players) would wait to be called by womwn performing in nearby kotas.
Like many sarangi players, he gave short demonstrations of rags and pieces, not seeming to have the facility to slowly expound one piece of Amjad Khan complained of being out of practise. One could see from the assurance in his hand position that he had once been a very competent player with a fairly solid grounding in rag and khayal.
The first video includes Brindabani Sarang, Tilang thumri and Multani. Then I try out his instrument, playing a hori in Mishra Kafi. He then plays Kafi.
Next was Pilu trhumri followed by a touch of Bihag:
Then some conversation: