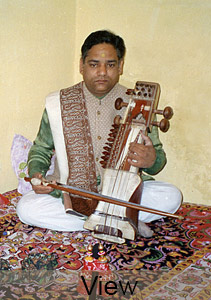 Bharat Bushan Goswami is an outstanding sarangiya who was a staff artist at All India Radio, New Delhi. He came originally from Brindaban from a religious family, so is one of the vary few sarangi players who is not from a hereditary musical background. It's a matter of considerable courage to have taken up the "unrespectable" trade of music—even more so the famous black sheep of Indian music, the sarangi. He did learn devotional music from his grandfather Amolchandra Goswami, before starting sarangi.
Bharat Bushan Goswami is a good friend as well as being my guru-bhai, a fellow disciple of Pandit Hanuman Prasad Mishra of Banaras. On New Years Day 1994 I organised a concert for Bharat Bushan at my dear friend the late Bhaskar Bhattacharya's house on Feroz Shah Road, New Delhi. Between 1993 and 1997 I visited Goswamiji at his home in Lakshmi Nagar, Delhi several times. We played together and talked about music and life. I filmed him and also his son Kul Bushan Goswami who had just started learning sarangi when I first visited in 1993.
Our videos start with that wonderful programme, January 1, 1994, rag Maru Bihag. He is accompanied on tabla by Madan Lal Shishodiya, the son of the sarangi player Bapu Lal Shishodiyawho is also featured on this site.
He began the programme with a full khayal treatment of the evening rag Maru Bihag:
Followed by a hori in Kafi:
And then a dadra:
Then Pahadi:
He concluded with a Bhairavi thumri: