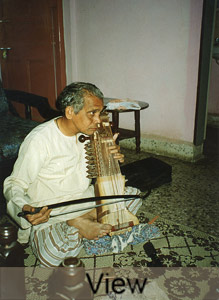 Anant Kunthe was one of the last sarangi players to be in demand as an accompanist in Bombay—as the harmonium exercised its final strangle-hold on classical music during the 1990s. He was a lovely sarangi player and a sweet man. During the winter of 1997, I visited him in his home in Thane, a distant suburb of Bombay, and had a couple of lessons as well as filming and interviewing him. I also met him and filmed a concert of his during a visit to the UK in 1998.
Anant Kunthe learned sarangi from the great Amir Bakhsh of the Jajar gharana. Anant Kunthe has accompanied many great vocalists and is highly respected by the music afficianados of Bombay.
Our first offerings are from a visit to Anant Kunthe's home in Thane, on 27 January, 1997. First he played rag Malkauns, showing me many intersting tan patterns and other techniques.
This was followed by Bhairavi:
The next three pieces are from a concert at the house of Jagdeep Singh, a good friend of mine and excellent tabla player who accompanied Kuntheji. This was an intimit gathering in Northampton, UK on June 6, 1998. The first piece is rag Jog:
This was followed by Bhairavi:
Anant Kunthe concluded with Chandrakauns:
<p style="