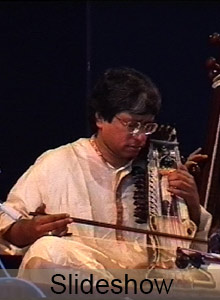 Dhruba Ghosh (b. 1957) is a good friend—a sarangi brother. He is a "Top Class" superb sarangi player with a deep understanding of music and an innovative style. We first met at the Sarangi Mela in Bhopal in 1989. Since then we have met on-and-off whenever I've been in Bombay, sitting with our sarangis, eating Chinese food, talking about music and philosophy. He has taught me alot. He is one of the very few sarangi players who can speak communicative English. Dhruba Ghosh is the son of the great tabla player, Nikkil Ghosh who founded the Sangit Mahabharati music school in Juhu, Bombay. Dhruba grew up in an exceedingly musical environment. He learned tabla and vocal music as a child, and started sarangi relatively late—taking one lesson in technique from the outstanding Calcutta sarangiya Sagiruddin Khan—beyond that, he is self-taught. His solo playing is profoundly influenced by both Bundu Khan and Ram Narayan, and also, unusually, by instrumental (sitar and sarod) music. He is someone who thinks creatively and philosophically about music. Like Bundu Khan, he is a lover of paltas, note-permutation melodic exercises.
Having distanced himself from the Sangeet Mahabharati, he now lives part of each year in Brussels and the rest of the year in Mumbai, where he is Principal of the Bharatiya Vidya Bhavan. In recent years Dhruba has made innovations in the design of the sarangi, adding a fourth playing string. He has engaged in many interesting fusion experiments with a wide variety of Western musicians.
I never called Dhruba my teacher—we were friends, and I didn't want to upset that relationship and he's younger than me, so I guess some misplaced pride came into it. Our sessions were always phenomenally peaceful and inspiring. But tonight, nineteen years later, listening to the Yaman below, I realise that this is among the finest talim I've ever had, certainly the most sensitive and finely atuned and deeply deeply musical. What music! I can only hope that some budding sarangi player somewhere makes more use of these tapes than I did.
Our first video is a two-hour exploration of rag Kirwani at Dhruba Ghosh's home in Bombay on 9 January, 1996:
The next piece is Yaman, again with me following, 15 November, 1996 at the Sangit Mahabharati, Bombay.
Next we have three videos from a concert on 18 January, 1997 in Surat, Gujarat, beautifully accompanied on tabla by Aneesh Pradhan. For me, this was a wonderful experience travelling from Bombay to Surat with two superb musicians, hanging out with them, listening to their practice in the hotel and the green room, eating Chinese food. The performance was the icing on the cake. These videos have been made available courtesy of the performers.
The first piece was rag Kaushi Kanada:
The next piece was a thumri:
Dhruba Ghosh concluded with Bhairavi:
The next video is a long Vasant Mukhari played in a concert in Gurgaon, Bombay on 2 February, 1997, accompanied on tabla by Yogesh Samsi:
Then we have another sitting at the Sangit Mahabharati on 31 January, 1997. A false start in Gaud Malhar leads into an extended Jaijaivanti.
Then a beautiful Bhairavi in depth from 3 February, 1997:
Another sitting at the Sangit Mahabharati on 30 January, 1997, rag Ahir Bhairav:
And a very long and ponderous Marva sitting on 24 February, 1997:
NEW January 2016! Now we make a big jump to 2004 and the relative finesse of digital video. While working on The Songs of Khayal in Bombay, we met from time to time,played a rag or two and ate Chinese food. I think I said already, somewhere above, that in retrospect, I can see that my sittings with Dhruba were among the finest—the most refined—talim I ever had. He pulled me to a higher level of sensitivity, of aesthetic engagement with rags, of technical precision. But I was busy with my research and learning singing, and I didn't work much on sarangi in those days. And looking back, this feels like a profound tragedy.
First a sitting on February 4th, 2004 at Dhruba's flat in Juhu, Bombay. We worked on Kalashri, a rag popularised by Amir Khan. Dhruba expands what is barely more than a single bandish in the mainstream imagination—into a deep and powerful melodic matrix.
Late that night we proceeded to rag Manj Khamaj, eventually morphing into Khamaj:
This was followed by some brief attention to rag Megh:
On the 1st of March at my place in Bandra we turned our attention towards rag Kaushi Kanada:
On the 25th of March, also at my place, we played rag Jhinjhoti:
Followed by another version of Kaushi Kanada: